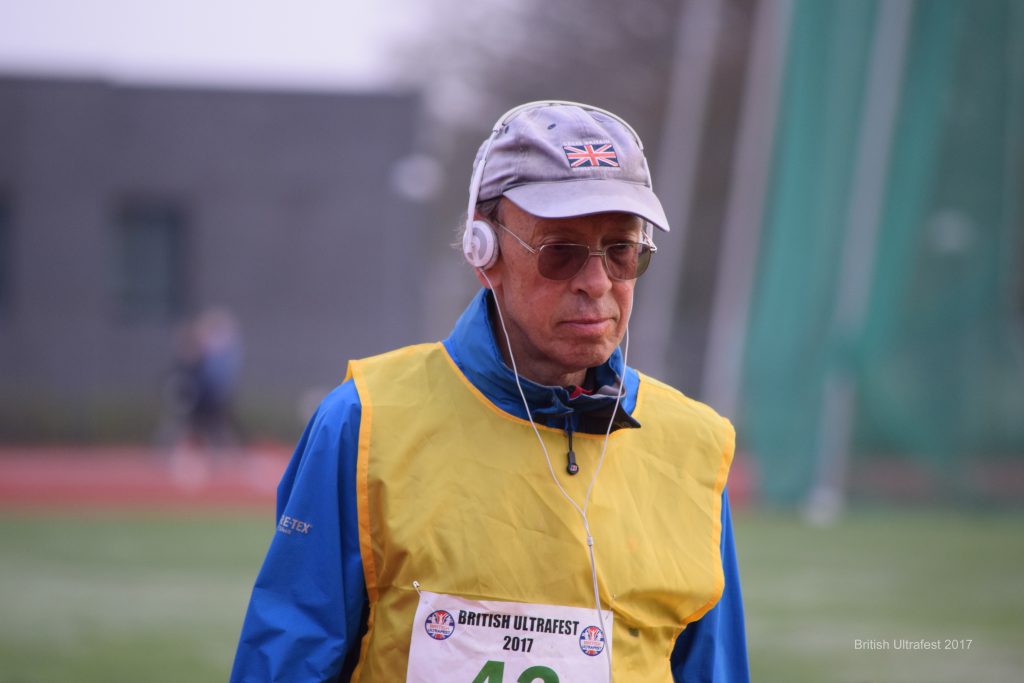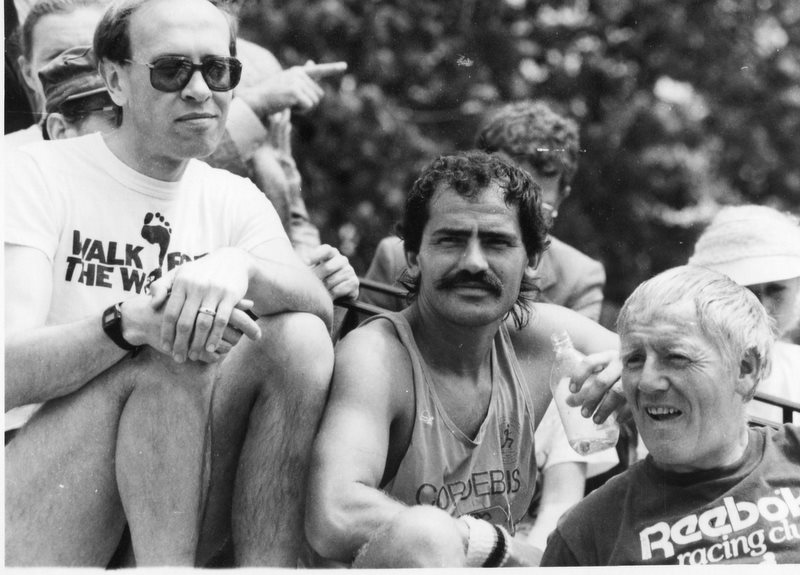 The Hall of Fame would be amiss if it did not showcase the length and breadth of one extraordinary ultra-distance career. This was expedited by Richard Brown, an icon of the ultra-running world. An incredibly modest athlete who, with the encouragement of his wife Sandra, incrementally broke records and demolished plentiful miles in a steady succession.
Aesop's fable about the hare and the tortoise epitomises his winning style. Let's look back at this momentous career. Richard was born after the 2nd World War in 1946. An only child in post-war austerity, his parents were not well off, however, Richard had a talent for singing and his first achievement was to win a chorister scholarship to the City of London School. Walking 2 miles to the station and back, every school day, primed his legs for an as-yet unrealised future. It wasn't until university that he became interested in rowing. A diagnosis of a rare form of arthritis which impaired Richard's flexibility could have been a painful, lifelong barrier, this condition did not perturb him
from pursuing his sport. The seeds of training and sporting discipline were further enhanced.
Having met Sandra at university and newly married, they moved nearer
the countryside to Luton in 1970. They both began walking as a respite from their civil service careers, five miles turned into ten and more, eventually, they joined the Long Distance Walking Association (L.D.W.A) but it wasn't until 1982 that they started entering long-distance races which were also through their participation with Surrey Walking Club.
This is when the long-distance race became a way of life for the Browns. Richard entered his first marathon in 1982 and he finished it in under 4 hours. Despite vowing never to do a marathon again, Richard went on to complete his first 100 miles in 1982 during the L.D.W.A pilgrim from Guildford to Canterbury, sporting a rucksack and
boots.
Richard preferred to employ walking as his main method of locomotion in all his races, only running on the downhills to stretch out his muscles. This seeming tortoise approach to the race brought success, he would often pass out runners and go on to win the races.
"The longer the distance the more the walker comes into his own."
Richard knew that over ultra distances, a runner cannot run all the time and as a result, their speed varies but a proficient walker can maintain a steady speed, experiencing overtaking by a walker can psychologically destroy a runner. Richard was following in the footsteps of a long and illustrious history of walking races stretching back to 2,500 BC in Egypt and Greece with a revival from the 17th Century.
Richard went on to compete in a variety of long distances from 100 miles, 24 hours, 48 hours and 6-day events over a 40-year competitive career. He has walked alongside (and sometimes moved past) all the greats of his generation, Yiannis Kouros, Eleanor Adams-Robinson and Don Richie to name but a few.
This personal experience was invaluable as he coached the GB team to
success in 2014. "At Ultra-distance events, especially over 100 miles, we are all in it together. We all know that while to some extent we are competing against each other, we are actually competing against ourselves. We are trying to do the best for ourselves."
This analysis sums up his compassion and understanding of the sport;
"We know that if we go through a difficult patch one of them will help us. They help because they know that in another few hours they will be in difficulty and we will help them out. So our aim is to do the best we possibly can. In our sport, the comradery, helping each other, is part of what it is about."
Now in his 70s, Richard continues to enter long-distance events and win in his age category. He is active and appreciated as a selector for 100km and 24-hour GB runners. He is passing the baton on. During August of this year, Richard was out on the route encouraging Dan Lawson in his quest to beat the record Richard achieved in 1995 of 10 days, 2 hours and 25 minutes from Land's End to John O'Groats.
Here's a summary of his achievements, not that a written list has any resemblance to the grit and determination required from a rare breed indeed.
1993 UK 100-mile walking record of 16 hrs 50 mins.
1992 UK 200 km walking record of 21 hrs 42 mins.
1990 & 1992 the second British walker to compete from Paris to Colmar, 542km Centurion 100-mile race winner a record ten times.
1991 The sixth person to exceed 400 km in a 48 hr event and a British record.
1997 Previous UK indoor 48 hr record. 1988 World 1,000 M45 road record.
1988 Previous UK 6-day road record, 832 km.
1988 World's best for running length of Ireland, 375 miles in 4 days, 12 hrs
2010 Held world M60 age group best performance for 6 days, 765 km 2012
M65 world best, 654km.
2014 Team manager of men's squad to win the World Championships, ten
year tenure.