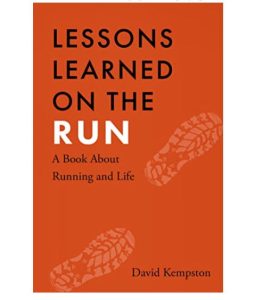 LESSONS LEARNED ON THE RUN
In this book David Kempton, a lawyer and self
professed middle of the pack runner offers life lessons by drawing parallels
between his life and his running. The book is
part self-help and part philosophy as the
author addresses issues all runners will have experienced whether novices or
veterans.
Whilst
those looking for a technical guide to improve their running endurance or speed
will be left wanting, those new to the sport will find lots of helpful advice
and tips although the book is primarily about the connection of running to
life, the lessons are pertinent to any sporting activity.
The book is well written and
the snappy writing style allows you to fly through the pages reaching the end sooner than you would like. Such is
his writing style you feel that you are sometimes running along with David as he tells you his stories.
The short chapters also
allow the book to be picked up for a few minutes at a time and you still feel
you have learnt something new. The book would be ideal for those interested in
starting running or those recent beginners as the guidance will help you avoid
the common pitfalls of choosing the wrong shoes or clothing and how to find
running partners.
David uses lots of stories
to illustrate his life lessons which are often both humorous and poignant and
make the book engaging and enjoyable. Sometimes the stories don't quite match
up to the lessons David is trying to convey however this doesn't detract from
the enjoyment the book provides.
The only issue I found with
the book was that occasionally sentences are repeated in bold and boxed at the
side of some pages. Whilst some are the take home message of the chapter, some
are just random sentences which don't contribute to the reading experience and
were distracting to the flow of the book.
This book would be a great
read for runners and non-runners alike and both will take home advice that can be
used for life in general and specific to
sport. I found this book a great way to spend
a few hours and read it straight though with ease.
Whilst this book may not
make you a better runner it will definitely change
what you think about on those cold winter runs.
Reviewed
by Thomas Garrod